Agape BBC
Testimonials
We're very PROUD to say that HUNDREDS of individuals, parents, and families in the Rochester area are singing the praises of Agape Black Belt Center, and telling others about it every day, because they've seen it for themselves, too.
Below is just a sampling of some of the wonderful things being said about Agape BBC.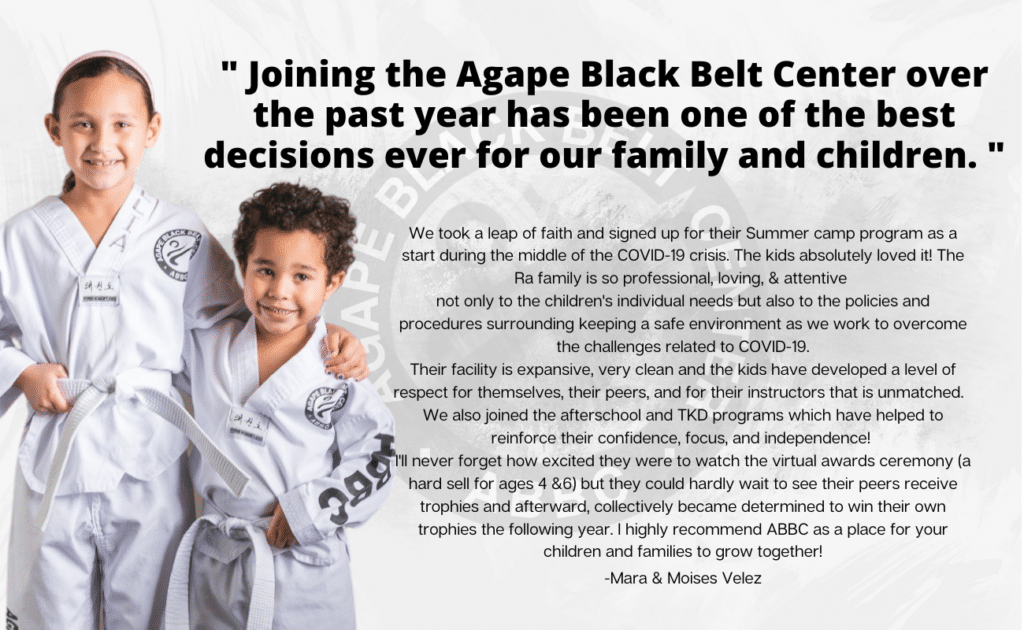 Try Our Trial Class Today!
Agape Black Belt Center has been a huge blessing to many of us. They anticipate the needs of a child and help build their confidence. And the word "Respect" is not just like any word. It is put into practice the hour you sign up. The instructors are like the children's guidance counselors. They know every child by name in the center which also shows they care. Very caring environment but very disciplined instructions. Coming to Agape and being around such a wonder what we call role models to us parents and our children. Thank you for everything you do.
I've been doing taekwondo for 7 years here and I can say it has been amazing. Everyone is so nice and encouraging, I would recommend it to anyone interested in martial arts!!!
My daughters have been learning Taekwondo at ABBC since 2020 (just when the pandemic started). Not only are they learning from some of our country's best Taekwondo athletes, but at a state-of-the-art dojang, ABBC values the growth of the whole person. They're dedicated to teaching Taekwondo techniques (body) as well as nurturing the mind and the soul through character building of being respectful, humble, patient, confident, courteous and so much more!!
My daughter gets really nervous when she has her first class. Instructor Hailey and Instructor Tarah are so patient to guide her into the classroom and gave her confidence and help. I appreciate their attitude.
AGAPE is a great TKD School and more. My kids love it there. They love the classes and the Camps. I would highly recommend AGAPE
One of the best learning schools for Taekwondo. Not only do the kids learn the skills but also discipline, integrity, and humility. My daughter loves this place and she has learned a lot in the last two years she has been in the black belt program. I really recommend this school to anyone who wants to learn taekwondo or simply use their summer camp programs. The Ra family is simply awesome!
Agape Black Belt Center is the best thing that has happened to my daughter since we moved to Rochester in 2015. Master Ra has helped her build her confidence as a whole. The school has helped my daughter deal with bullying and other issues that have come up. She has been able to set goals in class and they have supported her every step of the way. It is a very family-oriented center and they teach GREAT values. I highly recommend this TKD school!!!
If I could select 100 stars, it still wouldn't be enough. ABBC has changed my life. My son has been attending summer camp, after-school and Tae Kwon Do classes. He is excelling everywhere! The team at Agape goes above and beyond. They are courteous and professional while maintaining a real family atmosphere. I plan on keeping my son enrolled for as long as possible. Any family would be fortunate to welcome Agape into their lives.
Agape Black Belt Center is my daughter's second home and family. She has been practicing Tae Kwon Do for 5+ years, attends every camp she can, and participates in the After School Care program. The Agape family has played a critical role in shaping who she is today. She is confident, independent, kind, and respectful. We are grateful to be a part of this amazing community. AND I add more, I took the self-defense seminar this past weekend and it was AWESOME. I walked away with a handful of practical tips on how to protect myself using my body. I hope Agape does more of these seminars!!!
I have been training at Agape Black Belt Center for about a year in their hapkido program and I love every moment of it! Master Ra is a master of taekwondo, judo, and hapkido and the Ra family runs an efficient, knowledgeable, and family-friendly dojang! Mr. Bill Bendschneider is the hapkido instructor (also a black belt in the art) and he does a wonderful job of making the lessons accessible to all skill levels. I started with only a very basic level of martial arts knowledge and have had a ton of fun learning hapkido and progressing through the belt levels. Hapkido has been a great way for me to stay in shape and learn self-discipline. Agape BBC also runs after-school programs, summer camps, and more for kids of all ages. They always have fun programs going on and I recommend the dojang to anyone who is looking to grow in their knowledge of taekwondo or hapkido!
We love Agape! The Ra family is incredible and our son looks forward to seeing them every day at the superb after-school program and in class. There is a wonderful sense of expertise, calm, and respect that is priceless at Agape. We are looking forward to sending our younger child as soon as she is 4.
We are so blessed to have The AGAPE Black Belt Center and its amazing staff. Kids have had a blast going to camp every other week. They have enjoyed the daily themes that each include a character-building lesson, lots of games & physical activity, and of course taekwondo! They are even doing daily reading and school work without a fight. This has been great for the kids to get into a routine and practice safety measures while having fun. It's amazing to see how much they have matured in the past 5 months.
Our family absolutely LOVES virtual classes! The flexibility to not have to drive to and from multiple activities or juggle childcare means that Dominic can attend class more frequently with less strain on the family. It is so convenient to sign in right from home! The instructors have done a wonderful job managing both teaching and attending to their virtual students. They are really on top of things! I feel that Dominic gets just as much attention and guidance as he would have in person. Dominic has participated virtually in classes, testing, seminar, and fitness classes and truly enjoys the experience. And he finishes just as sweaty as he would have in person. ABBC has been a profound blessing to our family!
Whether you are looking for Discipline, confidence builder, self-esteem, or self-defense. It is all here, Master Ra and his instructors are amazing not to mention you always feel like part of the family. I will say without a doubt it has been the best thing I ever did for my children and my family. So if you have a spare moment take some time and go over to Pittsford and try out a class, you will not be disappointed. I highly recommend going to ABBC!
"Keep up the Amazing Work!"
Try Our Trial Class Today!
The instructors at ABBC have provided me discipline, focus, and confidence. They also strive to bring out the best in you.
Master Ra is the top rate. He demands the best and uses compassion as well as a rigorous curriculum to achieve it. The change in our sons has been wonderful to watch. They have gained confidence, discipline, self-control, and concentration, which has translated to other areas. I cannot speak highly enough of the Ra's and Agape Black Belt Center.
Many years ago (~15) when living in Raleigh, NC, I studied taekwondo (TKD). Comparing to my initial TKD center, Agape Black Belt Center is an EXCELLENT school. The Ra family is just amazing! Practicing and learning TKD will transform you inside and out. My 7-year old son has been practicing for almost 1 year and he loves it. He practices TKD at home and is so eager to learn. 🙂 He is more confident and respectful. He is just simply happy to go to TKD classes and see his friends. I really recommend this center.
The classes and instructors there always push you to do your best and encourage you to push yourself past your own limits. Taekwondo has not only made me more physically fit, but has also taught me important life skills and values. There I learned to never give up and always strive to do better. ABBC boosted my confidence and made me realize you can do anything if you set your mind to it.
Black belts are not given away or sold to the highest-paying customers. People earn them, and the camaraderie and support for each other are always amazing to watch. Our family has watched so many people, adults and children transformed by the physical, mental, and spiritual power of this place. I am a parent of a student. And I hate writing reviews, but Agape is different. Come visit! One hour there and you will see for yourself!
I was a student at ABBC back when it was known as Agape Martial Arts in 2010-2011 and I loved it then. Thanks to the teachings of master Ra my life has done a complete 180* turn in a great direction, not only self-defense-wise but also in the knowledge and maturity I've gained from being a student there. I went to the military and came back and now am back at ABBC and can't tell you how much I missed this place. The atmosphere here just has that vibe that makes anyone feel at peace and in harmony. The parents and students are not just coming to get a class, they come because we are all a family. You also are guaranteed to get the best work out of your life. If you don't believe me then come to try it out for yourself.
Best investment in my life! My children know how to play with others, take turns, share, they even know how to spend money because they work for it; they help me around the house. Honestly, it's been the best opportunity and investment I've ever made in my life. You should try it too!
Ever since I started Taekwondo at ABBC, I have the confidence that I can defend myself.
Ever since I started Taekwondo training I've become more confident, energetic, and happy! If I can do it, you can do it.
The most positive thing you can do to effect a change in your life is to practice Taekwondo at ABBC.
With excellence at the core, this team of Black Belt teachers, under the leading of Master John Ra, know how to bring a person from where they are to a higher version of themselves.
Since I started the Taekwondo at ABBC, I feel more optimistic, more positive; I have that 'Yes I Can' attitude, and have set new goals in my life.
Ever since I started Martial Arts, I have had the confidence that I can defend myself.
By training in the martial arts, I have totally become stress-free. I love it. My life is so much more enjoyable!
Taekwondo has been a stabilizing force in Nina and Michael's lives in this pandemic. It has helped keep them active, have something to work and strive for, keeps the days from blurring together. At the conclusion of the first virtual belt testing in late March, Master Ra shared a powerful message that I shared on social media: "As martial artists, we have to make the best in any situation, lift up each other, find the positive where we can, and do what you can to help." I have made this message a daily touchstone ever since. The Andoh family thanks Agape BBC for lifting the community up and being a positive force during these unprecedented times.
I cannot say enough good things about how Agape responded and supported its students during COVID 19. The virtual classes allowed for some "normalcy" and at the end of the class having the instructors check in on how the kids were doing (even if they did not answer the question) let them know that they were there for them. As parents, we can only do so much to reassure our kids. When people look up to their instructors and them an opportunity to share how they feel goes a long way. 2020 Summer Camp has been an absolute blessing. I have the utmost confidence ABBC is creating a safe environment for Gia. Better yet, Gia feels incredibly safe at Agape. You created a fun and welcoming environment for the kids. As you know, we kept adding weeks 🙂 Mr. Chiantera and I are so grateful for Agape and we are confident it will be a big part of Gia's life for a LONG time.
I think ABBC is doing a great job not only protecting us in the times of the pandemic, but also lifting our spirits with the indomitable spirit. Thank you.
Ever since I started Class at ABBC. I have the CONFIDENCE that I can defend myself I recently began taking hapkido self-defense classes at Agape and I am very pleased thus far. The Ra family is very nice and the hapkido instructor, Mr. Bendschneider is both knowledgeable and passionate about the art. I would recommend hapkido as a form of self-defense, an excellent source of exercise, and for students of taekwondo or other striking-based martial arts, as a way to round off their skillset. Agape has a great program, overall A+.
I started taking the hapkido (Korean self-defense) class at Agape Black Belt Center and I love it! It's a great way to stay in shape, learn self-discipline, and learn effective self-defense techniques. Master Ra and his family own and operate Agape BBC and they were so warm and welcoming to me during my first weeks of class! The hapkido class is taught by Mr. Bill Bendschneider and he is a wonderful instructor. He's incredibly knowledgeable and does a great job of demonstrating technique while making it still accessible for someone like me who is new to hapkido. Overall the environment is so positive here and I love training each class. If you're interested in martial arts and/or self-defense I highly recommend Agape BBC.
Joining the Agape Black Belt Center over the past year has been one of the best decisions ever for our family and children. We took a leap of faith and signed up for their Summer camp program as a start during the middle of the COVID-19 crisis. The kids absolutely loved it! The Ra family is so professional, loving, & attentive not only to the children's individual needs but also to the policies and procedures surrounding keeping a safe environment as we work to overcome the challenges related to COVID-19. Their facility is expansive, very clean and the kids have developed a level of respect for themselves, their peers, and for their instructors that is unmatched. We also joined the afterschool and TKD programs which have helped to reinforce their confidence, focus, and independence! I'll never forget how excited they were to watch the virtual awards ceremony (a hard sell for ages 4 &6) but they could hardly wait to see their peers receive trophies and afterward, collectively became determined to win their own trophies the following year. I highly recommend ABBC as a place for your children and families to grow together!
ABBC Summer Camp was an excellent experience. It was a good mix of physical and intellectual activities. The limited size and safety precautions left us feeling confident that it was a safe experience.
ABBC has changed my life! My son is excelling everywhere! If I could select 100 stars, it still wouldn't be enough. ABBC has changed my life. My son has been attending summer camp, e-learning/ after-school and Tae Kwon Do classes. He is excelling everywhere! The team at Agape goes above and beyond. They are courteous and professional while maintaining a real family atmosphere. I plan on keeping my son enrolled for as long as possible. Any family would be fortunate to welcome Agape into their lives.
I know that your team has been a great help with this and I want to say again thank you for everything. My son has been doing really well with his homework and tests the past few weeks. I know that your team has been a great help with this and I want to say again thank you for everything. He has been so proud to come home and share the news on his good test grades. We're really happy this program is available to give him one-on-one help and focus. Thank you!
ABBC Camp has been an absolutely blessing. I have the utmost confidence ABBC is creating a safe environment for Gia. Better yet, Gia feels incredibly safe at Agape. ABBC has created a fun and welcoming environment for the kids. As you know, we kept adding weeks 🙂