Agape Black Belt Center
Hybrid Learning
There is no greater priority to Agape Black Belt Center than the health and safety of our community. ABBC has been closely monitoring information about the COVID-19 situation and is taking every proactive measure to respond with our collective health in mind. In an abundance of caution for the well-being of our students, families, and our extended community, ABBC has decided to implement the practice of social distancing. This decision was made in accordance with the Pittsford Central School District, Monroe County Executive, and Monroe County Medical Director.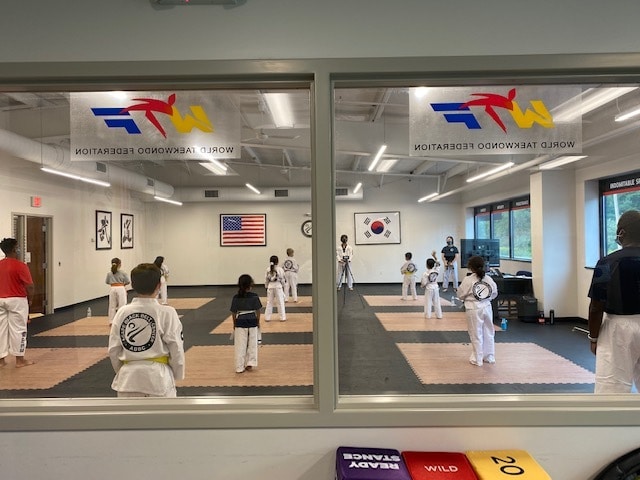 Welcome Back!
We are so excited to welcome you back to ABBC for socially distanced, in-person classes!
With flu season upon us and the likelihood of a third wave of the coronavirus, we would like to remind you of our In-Person Class Procedures. Please take a moment to review our policy below and remember that only one parent is allowed to come into the facility with their child for Taekwondo class. Siblings will not be admitted to the building. If you are unable to come into the building, we do allow drop-off and pick-up, but parents must be outside the side door to have their child dismissed. Lastly, please wear shoes that are easy to slip on and off to make our dismissal run smoothly and efficiently. Please let us know if you have any questions or concerns! We will see you for class shortly!
Martial arts classes will be offered three times a week and will last approximately 40 – 60 minutes. Taekwondo classes will be taught on Mondays through Fridays and Hapkido classes will be taught on Tuesdays, Thursdays & Saturdays.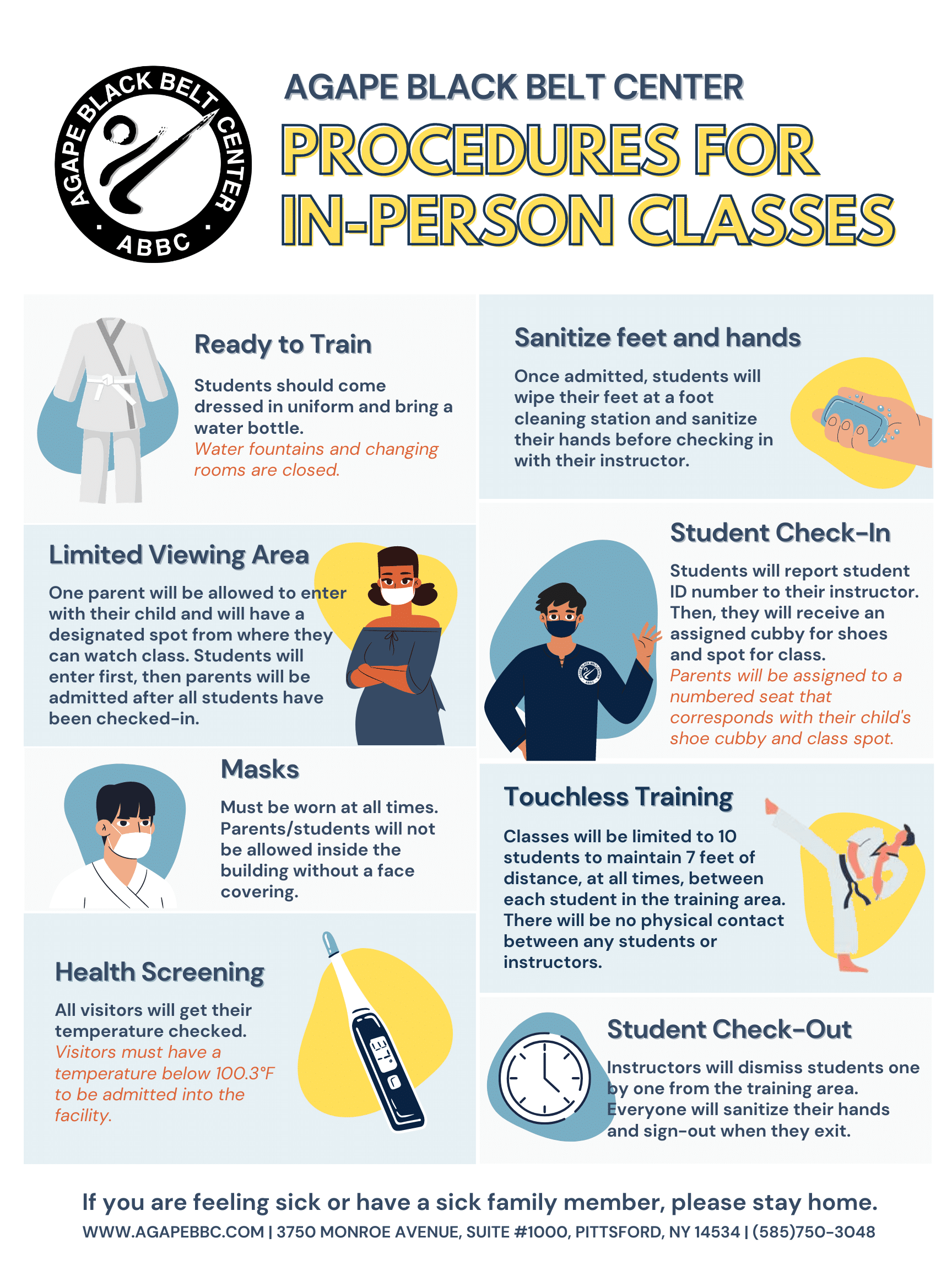 Take advantage of our Intro Program!
I think ABBC is doing a great job not only protecting us in the times of the pandemic, but also lifting our spirits with the indomitable spirit. Thank you.
I cannot say enough good things about how Agape responded and supported its students during COVID 19. The virtual classes allowed for some "normalcy" and at the end of the class having the instructors check in on how the kids were doing (even if they did not answer the question) let them know that they were there for them. As parents, we can only do so much to reassure our kids. When people look up to their instructors and them an opportunity to share how they feel goes a long way. 2020 Summer Camp has been an absolute blessing. I have the utmost confidence ABBC is creating a safe environment for Gia. Better yet, Gia feels incredibly safe at Agape. You created a fun and welcoming environment for the kids. As you know, we kept adding weeks 🙂 Mr. Chiantera and I are so grateful for Agape and we are confident it will be a big part of Gia's life for a LONG time.
Taekwondo has been a stabilizing force in Nina and Michael's lives in this pandemic. It has helped keep them active, have something to work and strive for, keeps the days from blurring together. At the conclusion of the first virtual belt testing in late March, Master Ra shared a powerful message that I shared on social media: "As martial artists, we have to make the best in any situation, lift up each other, find the positive where we can, and do what you can to help." I have made this message a daily touchstone ever since. The Andoh family thanks Agape BBC for lifting the community up and being a positive force during these unprecedented times.